Thursday, September 27, 2012
Every woman with straight hair has hoped at least once to make straight hair curly. The volume, the depth, the fun and the flirtatious nature of curly hair can help make you look thinner, younger and more attractive. Whatever the attraction, people spend mountains of money each year for help with the simple task of making waves and spirals in straight hair.
There is no ultimate right or wrong way to curl your hair. You always want to avoid damaging your tresses, but everything else really depends on your exact hair type. Most women already know specific tips that work for their hair, such as using hairspray before curling or waiting until your hair is a little dirty before curling. However, there are still a few tricks you can try for better results the next time you try to make straight hair curly.
Using curlers or a curling iron is fine if it works for your hair and will achieve the desired look. Curlers usually give a better look and last longer, but a curling iron is definitely much quicker. Gel or hairspray helps keep the volume and shape of curls in your hair. There is also a huge assortment of curly hair care products and curly hair conditioners available if your waves need a little extra boost.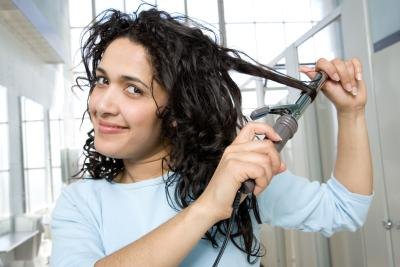 The use of a curling iron and bobby pins is a very popular method for professional stylists. Curlers can be the wrong size, take too long and leave creases or kinks in hair, breaking the curls. A curling iron can give great shape, it just needs a little help from the bobby pins to stick around.
Begin turning your straight tresses curly by brushing out a dry head of hair. Gather together the hair right above your forehead, in the bangs area, and pull it straight out. Wrap the hair around a large curling iron and hold for 2 to 5 seconds. Slip the curling iron out without destroying the curl. Use a bobby pin to pin the curl to your head. Repeat the process until your head is covered in pinned-up curls.
Spray an even, light mist of your favorite hairspray over your pinned curls to help make them last. Let the curls set for 15 to 20 minutes. Remove the bobby pins and let your curls fall loose. Use your fingers to help shape and style your hair. Add any final hair products and your curls are ready.